The Galanthophiles by Jennifer Harmer and Jane Kilpatrick (and related titles)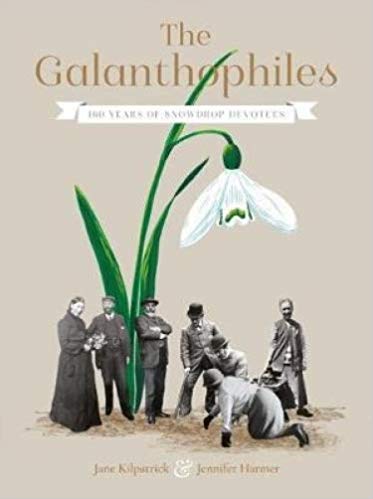 I have hundreds of books about plants and gardens. Some are historical, some are technical and some are just beautiful. And most just sit on a shelf after an initial read. However, I have a special shelf devoted to the genus Galanthus with just eight books which are my constant companions from October until April when my snowdrops are in bloom. No surprise that I should covet books about Galanthus which translates as the "milk flower" from the Greek. After all my mother was a librarian and my father was the milkman. But I digress. Let's go right to my world of snowdrops and books.
The latest addition to my library is "The Galanthophiles" published by Orphans Publishing and written by Jennifer Harmer and Jane Kilpatrick who have produced a lively, comprehensive, historical account of the handful of British Victorians who collected and shared snowdrops and wrote hundreds of letters about it to each other in a sort of non-digital version of Facebook. With archival material from the RHS and the descendants of these early galanthophiles, the authors entertain as they give context to the current craze for Galanthus. On the pages we meet legends, Sir Michael Foster, James Atkins, E.A. Bowles, John Henry Elwes and Lady Beatrix Stanley. We quickly discover that they were all just as crazy about snowdrops as John Grimshaw, Matt Bishop, Joe Sharman, Alan Street, Tom Mitchell and Anne Wright, the current luminaries in the hunt for the new, the unusual and the beautiful snowdrops. Well done Ms. Harmer and Ms. Kilpatrick! Rarely do I read about historical figures, put the book down and think, "I know someone like that."
E.A. Bowles, who figures prominently in "The Galanthophiles", wrote about snowdrops in "My Garden In Winter". However, there was no single volume dedicated to Galanthus until 1956 when the eminent botanist, F. C. Stern, published "Snowdrops and Snowflakes" under the auspices of the Royal Horticultural Society. I obtained a fine copy of this

slim volume with pen and ink drawings and a few colored plates

after a long search and at great expense. It has little practical use today. The taxonomy has evolved since the 1950s, and the few cultivars that he described are so well known that I would never need consult it. However, I keep it as a tribute to honor his work. Curiously, in this age when people are naming new cultivars for undergarments [ John's Y Front ] and dogs [ Mr. Stinker], nobody has named a snowdrop for F.C. Stern. I wish I had a really good seedling. I would do it in a heartbeat.
More than forty years passed before The Royal Botanic Gardens at Kew in association with Timber Press published "The Genus Galanthus" by Dr. Aaron Davis. Part of his doctoral dissertation, it too is a highly botanical book. Of the 245 pages, only the final 50 are devoted to garden cultivars. There are nineteen plates of lovely watercolors by Christabel King depicting some of the species and thirty-seven color plates of snowdrops in the wild. Not a single close-up of any named cultivar made it into this book. I only use this book to identify some of the doubles which have dodgy provenances. Dr. Davis dissected and counted the number of the inner tepals. If the outer mark is right, and my mystery double has 23 inner segments, there is a good chance it is Cordelia. Thank you, Dr. Davis.
I first became aware of Galanthomania in the U.K. in 2001, when I attended the Winter RHS Show and saw the swarms of people lining up to pay 25 pounds for a single cultivar. The Victorian Era was over. These buyers were not the citizen scientists, content to write letters and send watercolors and exchange the odd rarity with a chum. They were enthusiasts who were more interested in the beauty and joy that these small white flowers brought into their lives than the knowledge of where a species originated or how the leaves unfurled. Dr. Aaron Davis, Dr. John Grimshaw and Matt Bishop saw the light too. In 2001, the same year I saw the buying frenzy at the RHS Winter Show, they published "Snowdrops, A Monograph Of Cultivated Galanthus". It is a marriage of Dr. Davis' previous work and the independent studies of Dr. Grimshaw and Matt Bishop. Their genius was to respect the desires of the new collectors by including hundreds of glossy photos of the coveted cultivars and writing brief narratives describing the origins and special features of the cultivars in lay terms, while incorporating Dr. Davis' work on the species. This is very much a twenty-first century book. There is a very telling line in the section, Introduction To Snowdrop Cultivars, that is, "printed in smaller type, the technical description gives identification details, which if printed in the narrative section would make tedious reading." They found the formula to satisfy the trained scientists and the enthused collectors. There have been two updates and reprints, but copies are still scarce and cost hundreds of dollars on resale book websites. Galanthophiles refer to this tome as "The Bible". Although the authors have worked diligently for the last decade on a sequel, galanthophiles are still waiting for the "New Testament". My "Bible" is stained and dogeared from years of use. However, as time passes and new cultivars arrive on the market, I find that I go to it less and less. How the mighty have fallen. 2 Samuel 1:25.
The Brits are not the only galanthophiles. Hanneke Van Dijk of the Netherlands published "Galanthomania" in 2011 from the publisher,Terra. She attempted to blow up the accepted taxonomy of galanthus which was based on the leaves of the plants and introduced her own taxonomy based on the flowers. She designed a simple classification based on ten flower types similar to the classifications used to describe daffodils. In her introduction she posed the quandary, "Some people [state], you have to look at the leaves, but let's be honest, if you are going to admire a snowdrop, you're going to do so when it's flowering. Who's bothered about the leaves then?" Apparently everyone was bothered by her rejection of the established taxonomy, because I have never heard or seen anyone in the snowdrop world refer to her classifications or use them. This was an idea whose time had not come. Fortunately, she included a large gallery of named cultivars which is particularly useful when trying to identify doubles. She included two photos of each, a bird's eye view and a bee's eye view, and for that I say "Dank je".
Gunter Waldorf was a leading German galanthophile who was much respected and admired in the galanthus community. Although ill, he managed to complete a small book, "Snowdrops", which was published posthumously by Frances Lincoln Limited in 2012. We will never know if this is the book he intended to write, but I can say that this is the book that makes me smile every time I pick it up. It has such interesting small chapters such as, "The First Time" and "The Question Of Money". Moreover, it has more than three hundred exquisite photos in the gallery which actually makes up the bulk of the book. I prefer the Waldorf gallery to the previously mentioned Van Dijn gallery when I am seeking photographs to help me identify the cultivars that have lost labels or mysteriously appear as rogues in an established clump unless it is a double. Call me shallow and lazy, but I also love it because it is only seven inches by seven inches and 160 pages which makes it so easy to carry around in the garden. Rest In Peace, Gunter. Your work succeeds.
I had not looked at "The Plant Lover's Guide To Snowdrops" by Naomi Slade since Kew Gardens published it in conjunction with Timber Press in 2014. Initially, I thought it had no redeeming value. When Naomi Slade, a garden writer with no history with the snowdrop community nor interest in snowdrops per se, was chosen to write this book, the galanthophiles shook their collective heads. After all, Kew and Timber had joined forces fifteen years earlier to publish Dr. Davis' scientific treatise. How quickly the worlds of publishing and galanthophilia had changed. When I finally got my copy, I admired the quality of the photographs but cringed at the selection of the cultivars in the photographs. Critics who dismiss galanthophilia frequently state, "All snowdrops look alike." I

n this book t

here are pages and pages which reinforce that idea. There are just too many single flowers with small green marks over the sinus. She had the choice of two thousand cultivars, and she obviously chose the tried and true when she could have presented the new and unusual. Appropriately, there is a single snowdrop with a small green mark above the sinus named "Naomi Slade". Furthermore, there are also obvious mistakes in the text. If I can find them why did nobody at Kew find them? Nonetheless, although it is my least favorite of eight, I could recommend this for someone who is galanthocurious as a beginner's guide to snowdrops. It has just enough information to inform a novice without overwhelming the novice. For anyone with experience in collecting, I suggest they use it as I use it ..... as a book end.
I have new version of an old friend on my shelf, "A Gardener's Guide To Snowdrops, Second Edition" by Freda Cox published by The Crowood Press. The author is an artist who has produced hundreds of watercolors depicting the species and cultivars and written brief descriptions. She is a not a scientist, and some galanthophiles, who do not like her idea of artistic license, have taken to Facebook to accuse her of plagiarizing the more scientific books at the same time others are complaining that many of her descriptions are inaccurate. I am not quite sure how that all works out, and frankly, I do not care, because I am not an expert; I am an enthusiast. As an enthusiast, I have enjoyed the artistry of the book, and much to my surprise, I have used her illustrations to help me identify mystery snowdrops more than I have used the photographs in the other books on my shelf. I look forward to the Third Edition.
I am grateful for these books and hope and pray that someone will write another, because I still have space on that shelf. As a realist, I know that there will be fewer books in the future. I understand the cost of publication is high and the profit margin is low. There are also more and more sites online which provide information and photographs of snowdrops. However, if you are like me and still love the feel of a book in your hand and the joy of ownership with its perks, then I hope my brief summaries will assist you when and if you decide to add a book about Galanthus to your shelf.
Ernest Cavallo has gardened on the East End of Long Island for 45 years. In 2009 when he retired from a career in public service, he decided to take a trip to the UK to explore new options for his Winter garden. At Colesbourne Park in the Cotswolds, millions of snowdrops seduced him on the spot. He has spent the last ten years studying snowdrops, experimenting with species and cultivars in Zone 7, identifying best practices to encourage bloom and multiplication, propagating rare snowdrops and recently selling to others who share his love of this essential bulb for the late Winter/early Spring gardens. Since 2010, he worked with the staff at NYBG as a volunteer to help expand the Garden's collection. He speaks to garden clubs, NARG chapters and anyone else who wants to know anything about snowdrops.