Fronds and Anemones: Essays on Gardening and Nature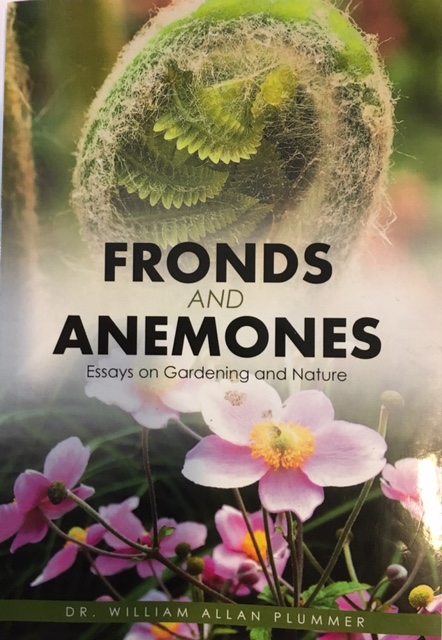 Fronds and Anemones: Essays on Gardening and Nature by Dr. William Plummer. iUniverse, Bloomington, IN, 2017. 229 pp. $18.95, $18.95 Amazon. Signed copies are available from the author for $18.95 with free shipping: 10 Fox Lane East, Painted Post, NY 14870.
Fronds and Anemones: Essays on Gardening and Nature features short essays, mostly one or two pages in length, organized into eleven chapters covering subjects like understory trees, bird watching, ferns and the construction of the author's Cape Cod house and garden near Corning, New York on ¾ of an acre of enhanced woodland over more than fifty years. The decades produced changes in the garden's plant composition, light levels, wildlife populations, and in the gardener himself as his knowledge and confidence grew. Early in the development of the garden, the author claims the time devoted was 90% work and 10% enjoyment, though from his current vantage the ratio has been reversed. Dr. Plummer has clear affinities, for Leach and Nearing Rhododendrons and later, Epimediums and other woodland species adapted to his wooded lot. He also has a love for ferns and one of the most notable essays details several species he grows and encountered at Fern Forays sponsored by the Hardy Fern Society.
The verbal descriptions are vivid and informed by personal experience with cultural practices, maintenance schedules and techniques, including pruning, and growing plants from seed. It would have been enjoyable to see photographs, though the verbal descriptions are more than adequate. The author worked as a chemist for Corning Glass and his scientific predilections emerge in his description of building a stone wall early in the development of the garden, estimating the weight of the stones comprising the dry-laid wall at sixty tons. The author confesses, "I am an inveterate punster, for which I make no apology". This observation is evidenced in nearly every essay and even in the title of the collection.
Many of the essays were published earlier in other newsletters, journals and newspapers, including the NARGS Adirondack chapter newsletter. There is some repetition in the content of different essays, which were anthologized as originally written. There are also some minor spelling and taxonomic errors that could be corrected in another round of editorial once-over. There are useful appendices listing a short list of horticultural references the author has found useful and a list of germane quotations from the classical period to the present.
The author joined ARGS shortly after he started gardening and amassed a great deal of useful information from his contacts. He attended his first National meeting when Bernard Harkness was president in nearby Canandaigua, New York. Saturday at the Harkness home in Geneva and garden tours on a rainy Sunday. He joined an informal group of Ithaca, NY rock gardeners that later formed the core of the Adirondack Chapter, which he subsequently served as Treasurer and Chairperson.
Rarely is a gardener involved with a single space for such an extended period and there is much to be learned from an observant steward whose eye and hand have been focused so long. These essays will provide the reader with much pleasure and insight.
Steve Whitesell is a longtime NARGS member and belongs to the Adirondack and Berkshire chapters. He is a retired landscape architect and lives and gardens in rural Schoharie County, New York.