In the Footsteps of Augustine Henry and His Chinese Plant Collectors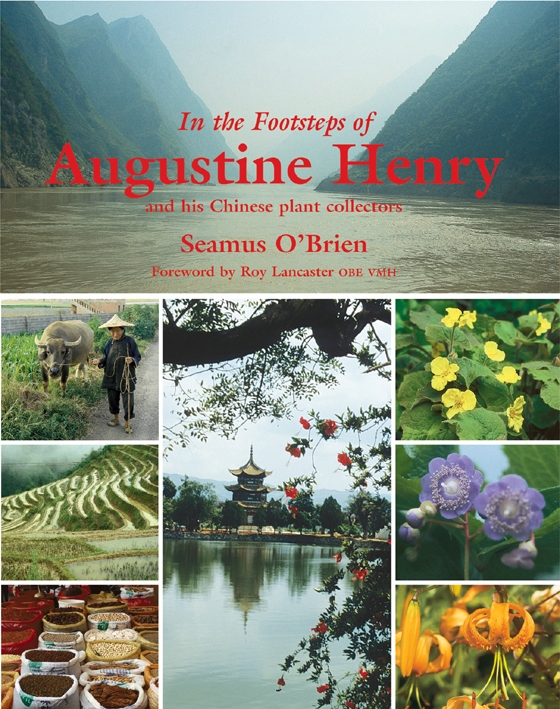 In the Footsteps of Augustine Henry and His Chinese Plant Collectors, Seamus O'Brien, Garden Art Press, an imprint of the Antique Collectors Club, New York, NY & Woodbridge, Suffolk (June 16, 2011); 376pp, 500 color illustrations, hardcover; publisher's price: $85.00, Amazon price: $62.50.
Augustine Henry (1857-1930) was an Irish official working for the Chinese Imperial Maritime Customs Service from 1881 until the onset of the Boxer Rebellion prompted him to leave at the end of 1900. Henry was stationed in several cities in central and western China, Shanghai, and Taiwan. Untrained in botany or horticulture on his arrival, he nevertheless began botanizing the areas surrounding his posts, first in Hubei province and later in Sichuan, Hainan, and Yunnan. He corresponded prodigiously with the leading botanical authorities of his day and he and his collectors gathered 158,050 specimens representing over 6000 species, the largest single collection made in China. 1338 species were new discoveries and much of the territory covered by Henry had only recently been explored by notable forebears like Robert Fortune and the French missionaries David, Delavay, and Maries.
The author of this exhaustively researched biography is Director of Kilmacurragh, part of the National Botanic garden at Glasnevin, near Dublin. After consulting Henry's herbarium specimens, diaries, letters, and photographs stored at Glasnevin and tracking down extant plants grown from seeds, cuttings, and bulbs sent by Henry to various botanical gardens and private collectors in Ireland, the UK, and US, O'Brien organized both a Chelsea exhibit of Henry's Chinese plant introductions and four trips to China between 2002 and 2009. The trips, taken both prior to and after the submersion of many sites by the giant Three Gorges dam, retraced Henry's routes though many areas heavily forested during Henry's journeys that were now considerably changed, denuded, or lost under impounded waters.
There are appendices of new families and genera discovered by Henry and plants named in his honor by E. H. Wilson, Frank Kingdon-Ward, and other subsequent Chinese plant explorers. The book is lavishly illustrated with the author's photos of plants and places, as well as historic photos. This is an important document for lovers of Chinese plants and those interested in knowing more about a man responsible for so many notable introductions and whose life intersected with so many other great botanical explorers.
Steve Whitesell is a member of the Manhattan Chapter and edits their newsletter.