Gardening for a Lifetime: How to Garden Wiser as You Grow Older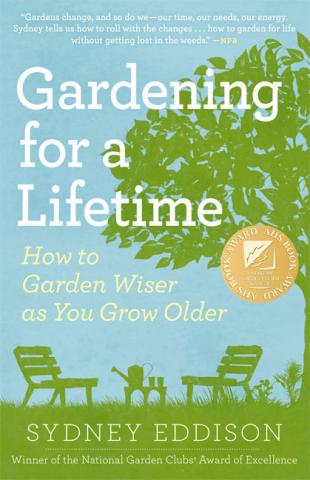 Gardening for a Lifetime: How to Garden Wiser as You Grow Older, Sydney Eddison, Timber Press, Portland, Oregon (2010); 204 pp, 64 line drawings, hardcover; publisher's price: $19.95 (also softcover, $14.95); Amazon price: from $7.98.
We all have faced, or will face, a time when our ability to do the strenuous work in our gardens diminishes. I did earlier this year after three surgeries due to broken bones. In retrospect, Sydney Eddison's Gardening for a Lifetime would have provided me some useful perspective during that period. It's an intuitive primer on "how to garden wiser as you grow older." Essentially it's about easing the workload without losing the beauty and gratification of environments we spend years creating, while "trying to hang on to something we love," writes Eddison.
When age crept up on Eddison, the award-winning writer, gardener, and lecturer realized that like the 1950s Johnny Mercer song says: "Something's gotta give." When it became obvious her garden was too much to handle, even with help, she knew it was time to rethink things. This poignant and practical book draws upon the wisdom she accumulated during nearly 50 years of gardening.
The book begins with a look back at Eddison's own garden in Connecticut and how it ended up being more than she could manage. In subsequent chapters, she reflects on how she went about solving this dilemma and the lessons learned along the way. Finely-rendered pen-and-ink illustrations by Kimberly Day Proctor enhance the author's lyrical prose. Each chapter ends with a section titled "Gleanings," which sums up strategies and techniques that reduce garden tasks. For instance, Eddison points out that the good news about shady areas is that they are easier to maintain because less light means fewer weeds and "there are relatively few prima donnas among the shade-tolerant plants."
Eddison's advice also includes substituting shrubs for work-intensive perennials and accepting imperfection. Mulch goes a long way as camouflage, she notes. Another strategy is embracing miniature landscapes and containers such as bonsai and trough gardens. Above all, she emphasizes making the most of what you have left, both in terms of "the resources you still have at your command" and in the garden.
While aging gardeners will appreciate this book, it will also appeal to those who are short on time due to career and family obligations.
Reprinted from the November/December 2010 issue of The American Gardener, with permission from the American Horticultural Society.