Essays on Gardening in a Cold Climate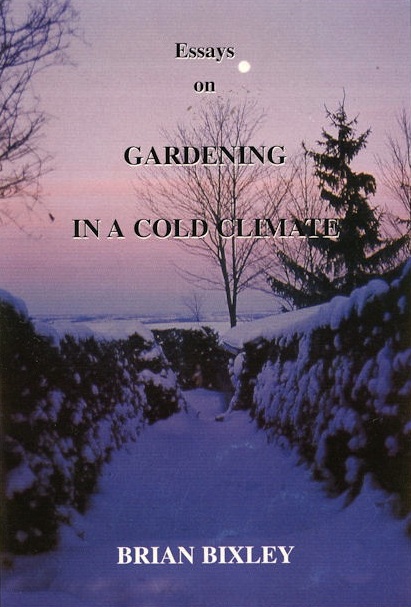 Essays on Gardening in a Cold Climate, by Brian Bixley, Whitfield Press, Shelburne, Ontario (January 1, 1998); 190pp, paperback; publisher's price: $20+shipping.
Living in Ontario, Brian Bixley has the well-earned ambivalence of the cold climate gardener, calling winter "the icicle in the soul of the gardener" and yet acknowledging its "shivery perfection." But the range of his thought and the dry subtlety of his wit in Essays on Gardening in a Cold Climate go beyond the confines of one region or climate.
Who can help but smile as Bixley relates:
…Walpole said of Kent that 'He leaped the fence, and saw that all nature was a garden.' From the first time I encountered that phrase, I loved the visual image, of a still slender, youthfully middle-aged, perhaps dandyish figure sailing over the confining fence, the sense of psychological freedom as Kent skipped, or scissored, or straddled, or did the Fosbury Flop, one of those long-legged long-armed characters from illustrations to slightly scary children's stories, a frayed jacket and an Old School scarf flying in the breeze.
While seriously considering the relationship of a rural garden to the larger natural landscape surrounding it, Bixley avoids descending into academic pomposity by confessing to his outlandish mental picture of a phrase "cherished by garden historians." Yet it is only after tracing the idea of nature held by proponents of the English Landscape Garden, and articulating his own resolution to this tension between artifice and nature, that he ends his essay by revealing that
the fence that Kent metaphorically leaped was, alas, …not a rail fence or a wire fence but a sunk fence. Kent floated not upwards, but downwards. He didn't need to leap to see what lay outside the garden. The garden historians, with the exception of Walpole, don't tell us that.
Now this is one of the things I like about Brian's writing: he never takes himself too seriously. But he is very serious about gardening. In fact, he calls it "the most profound and complex of the arts." Indeed, the arts are never far from Brian's musings; he draws upon literature and music to understand his garden and to better examine the broader issues of garden design and history. And yet he can devote a whole essay to one tiny Draba and cause this non-alpine gardener to hold her breath, wondering if the plant will make it.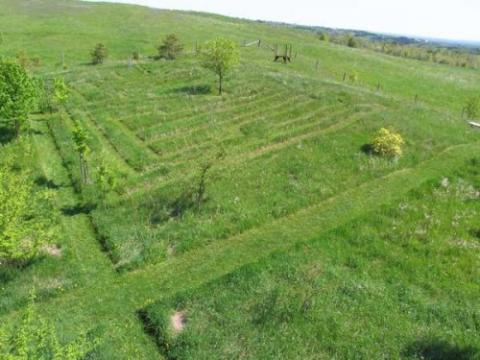 There is a satisfying mix of the theoretical and the practical in this collection. You will find critiques of garden history and instructions on creating a maze in a meadow with a hand-pushed lawn mower.
At left: Brian Bixley's maze. Photo, though not included in the book, was provided by the author.
There is an essay addressing practical considerations when starting a garden you can only visit on weekends and a memorial for a favorite dog. There are some book reviews, yes, and two book review spoofs. The same man who writes about growing trees from seed that will mature after he is dead confesses (quoting Robin Lane Fox), "I look forward to an old age as Snowdrop Inspector." And who else besides an Economics professor would attempt this:
On the basis of [Sternbergia lutea] flower production from 1984 through 1987 I had been moved to make some alternative forecasts of what was likely to happen in the years to 1995 (see diagram.)
Yes, he includes the graph of his projections for your perusal. Throughout, there is an intelligence and wit underlying the writing, drawing on knowledge of the larger world and synthesizing it in the world of the gardener.
I still feel I have not done this book justice. If you find your thoughts wandering as you weed, not only working out gardening logistics and resolving pedestrian conflicts but connecting the dots between seemingly disparate topics, you will love this book. I don't know why Essays on Gardening in a Cold Climate is not more widely known. I don't know why Brian Bixley is not as well known as Eleanor Perenyi or Henry Mitchell. Perhaps it is because he published the book himself and is almost the only source from which you can obtain it. Yes, Brian is hoarding the world's supply, and quantities are limited. Order your copy here before they're all gone.
Review by Kathy Purdy, reprinted from Cold Climate Gardening. Kathy is newsletter editor for the Adirondack Chapter of NARGS.