Crocuses: A Complete Guide to the Genus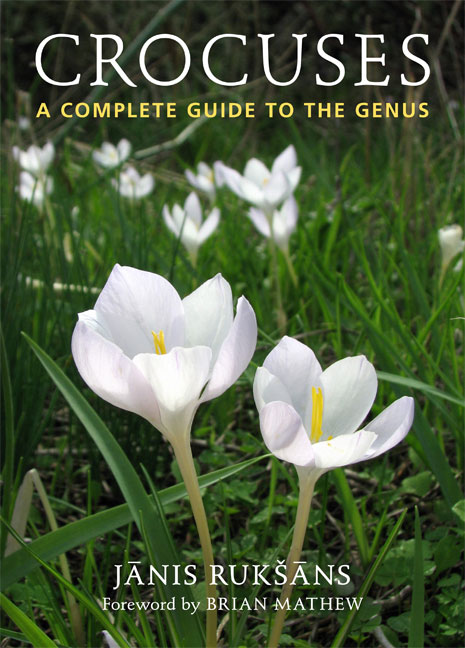 Crocuses: A Complete Guide to the Genus, Jānis Rukšāns, Timber Press (January 12, 2011); 280pps, 307 color photos, 10 b/w photos, 4 drawings, hardcover; publisher's price: $45.00, Amazon price: $40.50.
This is the kind of gardening book that makes my garden-geeky heart beat faster. It focuses on one genus, and endeavors to tell you everything you could possibly want to know: growing in an open garden, growing in green houses, growing in pots, starting from seed, and pests and diseases. And that's just Part One, less than a fifth of the book.
In Part Two, Ruksans explains the botanical characteristics of the genus, and then the meat of the book begins: Classification. I like what he says at the beginning of this section:
We can look at plant classification from two viewpoints. One is strictly scientific and is the domain of scientists and professional botanists. The other is a practical viewpoint in which gardeners put the findings of scientists to good account in a way that is accessible and useful for their purposes.
Doesn't that sound sensible?
This section is subdivided into Autumn-Flowering Crocuses and Spring-Flowering Crocuses, and those subsections are broken into related groups. At the beginning of each group is a botanical key that would enable you to identify the species you have. Following this key is a lengthy description of each species, where Rukšāns tells you everything he knows about the species, including where he may have seen it, in the wild or in a grower's nursery, and everything he has read about the species.
There are 307 color photos, arranged in two sections of "plates," and if there is a picture of that species, the plate number is listed. Some of the photos are of crocuses in the wild. I especially love this, to see crocuses growing "like weeds" in a steep mountain meadow.
Review by Kathy Purdy, reprinted from Cold Climate Gardening. Kathy is newsletter editor for the Adirondack Chapter of NARGS.