What makes a barren a barren? This half acre in Plattsburgh New York is really cool stuff. First; summer here was hot and
dry. A good chunk of my beloved Hudsonia heath on this tiny chunk of earth appears to be quite dead as a result.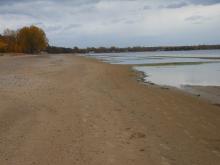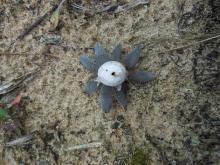 Here's a survivor patch of Hudsonia tomentosa, a very special little plant and pretty much the reason I return here again
and again. I associate moss of the type seen in these two photos with clay soils. This habitat exists on back dunes at the
city beach; pure sand; whats going on?

A sedge is at work stabilizing the area. It grows almost as a mono-culture here. The Hudsonia grows on the dunes that,
apparently, aren't tacked down yet. The second photo depicts a peat wrack; I was surprised at the effect of a recent heavy
rain, not only was there this effect but quite a bit of sand had been moved off of the less stable dunes; and washed into
the Hudsonia plants on the slopes. I would have thought the rain to soak in more; it is, after all, sand; and cause less
erosion.

This little plant is another begging the question. I think it is a Lechea sp. The rather concise growth of the basal
rosette is quite catchy but there is no stunning floral display. I've seen this genus on a baked southern exposure in thin
rock ledge soil also: SO 'NOT' HERE! But.... The second photo is a pretty little oak. In fact, not 50 yards to the west is
a tall forest of poplar, willow, et. al. so why is this just a pretty little oak? The entire affair sits pretty much on
the water table of Lake Champlain so a degree of anoxyia at the roots may be involved but the larger trees to the west
don't seem bothered by this handicap. What's up?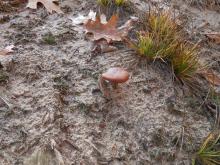 This little everlasting looks to be extremely rare on this site. It seems biennial -a strategy of nature that probably
works when it does and is otherwise pretty risky. Photos are of rosette and flower scape.