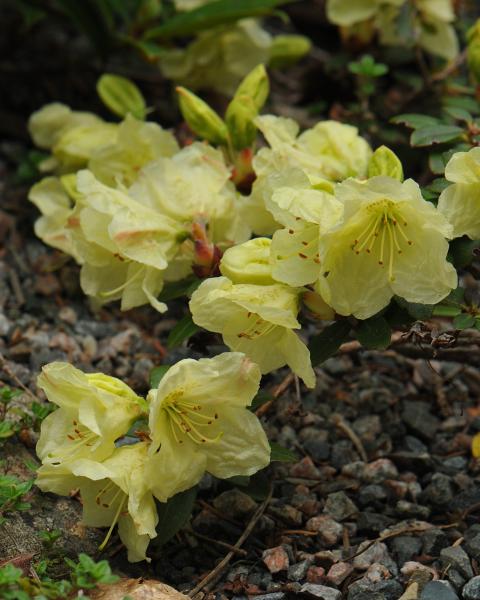 Description:
This dwarf rhododendron is a hybrid between R. ludlowii and R. keiskei 'Yaku Fairy'. The hybrid was developed by Peter Cox in 1971 and registered in 1984. This shrub generally has prostrate stems and in time, may reach 30 cm tall and 60 cm wide. The leaves are olive-green taking on bronzy tones in winter. The flowers are solitary or in clusters of up to four flowers. Blossoms are pale yellow with a few fine reddish spots.
Cultivation:
In cooler coastal areas this hybrid rhododendron may tolerate full sun but in warmer areas prefers afternoon shade. The soil should be well-drained but organic-rich with an acidic pH. The hybrid is hardy to zone 6.
Blooming Season:
Depending on the location, this hybrid may bloom from late March to late May.
Propagation:
Cuttings
Division:
N/A
Seeds:
N/A
Cuttings:
Cuttings of current season growth may be taken from late summer to mid-fall and rooted under mist.