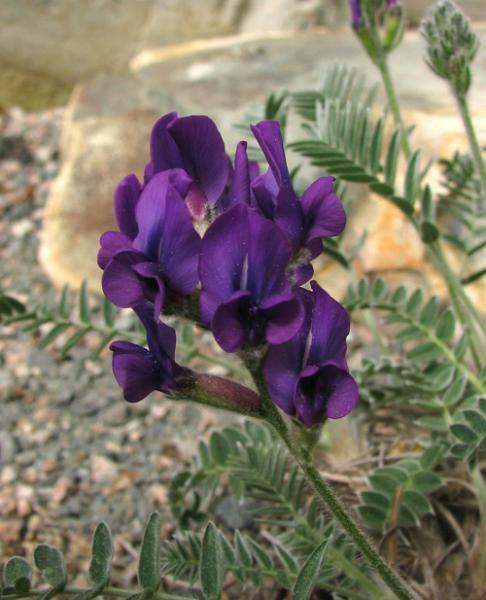 Description and general information
This pea-relative is a rare endemic species found only in Hokkaido, Japan. It is a red-listed species due to its rarity but seeds are available in many seed-exchanges.
Plants are almost sub-shrubby with some overwintering foliage. The leaves are divided into many narrow leaflets. The entire plant is covered in dense hairs, lending a silvery appearance. At the end of prostrate 20 cm stems are clusters of up to seven dark purple-blue 2cm long flowers. It blooms in early summer.

Cultivation
Full sun and a well-drained mix are essential to cultivating this plant. They are quite amenable to growing on tufa. It is a tap-rooted species and difficult to transplant so plant them when young and leave them undisturbed. Are are apt to be short-lived.

Bloom period
May (south) to July (north)

Propagation
Seed only

Seed
Seed do not need stratification and can be direct sown at 20 C. They do however, germinated better if scarified and soaked for 24 hours before sowing.

Division
This tap-rooted species cannot be divided.

Cuttings
Not a standard propagation technique.