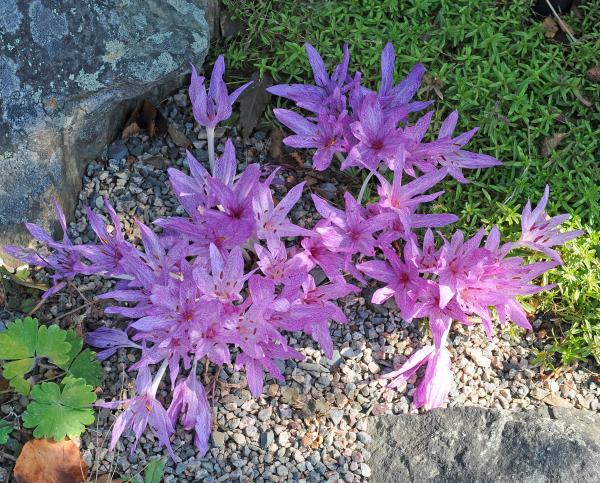 Colchicum X agrippinum
Description and General Information:
Like all Colchicum species and hybrids, this plant arises from a corm. Of the many species and hybrids of Colchicum, this hybrid is perhaps the most suitable for rock garden culture as it has relatively small-sized foliage. While often sold as a species, it is more correctly written as Colchicum X agrippinum. The two parents are thought to be C. variegatum (to which it appears quite similar) and C. autumnale. The pink, chequered flowers measure about 12 cm in diameter and are held on stems 10-15 cm high. The strap-like leaves appear in spring, measuring about 15 cm long, blue-green to grey-green with undulating margins. All parts of the plant are poisonous so are deer and rabbit-resistent. This hybrid is a winner of the Award of Merit from the Royal Horticultural Society.
Blooming Season:
Generally late August to early October
Cultivation:
This is among the easiest of all Colchicum. Being small in stature, its corms are quite small and even small corms often send up a flower or two. It multiplies quite quickly so within a few years, plants will be large enough to divide. Corms should be planted by early August, placing them 8 cm deep. Grow it in full sun to part shade. It is not fussy about the soil pH as long as the soil is well-drained. It is ideal for the rockery but also useful if planted under shrubs and along the borders of walkways. While mostly disease-free, its flowers may be attacked by slugs.
Propagation:
This Colchcium is among the fastest to multiply via natural splitting of the corms. Mature plants actually benefit from being dug and divided every 3-4 years. Once the foliage has dried in early summer, they may be dug and the corms divided and either replanted immediately or stored under warm dry conditions until early August.