With so much focus on issues around NARGS Forum functionality, as there needs to be, I'd like to point out one of the real achievements in the NARGS online presence, that is the scanning and posting of all ARGS / NARGS bulletins and quarterlies from 1938 to present day. Go to the NARGS Home page, you can't miss it. The current three years of NARGS Quarterlies are available to members-only, all other quarterlies and bulletins are available free online.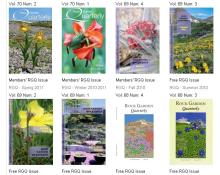 So, I started with the Bulletin of the American Rock Garden Society, Vol.1, No1, Jan-Feb 1943, fascinating, lots of good information. When reading some of the articles, I'm struck but the number and variety of fine plants mentioned. I also wonder about named cultivars and selected forms of plants, what ever became of them through the years.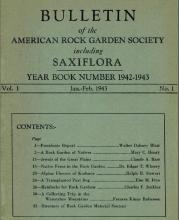 A dwarf form (a micro-dwarf form, relatively speaking) of Magnolia virginiana is shown and discussed, I would love to have such a creature in my garden. Visiting the botanic display beds at Smith College in Central Massachusetts last weekend, the beautiful fragrant blooms of our native Sweetbay Magnolia were present, but one needs room when growing Magnolia, wouldn't a truly dwarf form be a treat for the garden, wonder if such a form still exists.
And then three cultivars of Iris verna are discussed, where are they now? Here's a B&W photo Iris verna 'Vernal Snow' and the text describing it and two other named forms.
And there is fun stuff to see, such as the nursery listings. Here's one (on the left) that gives some prices, what a different word it was back then. On the right is an custom binding offering, bind 2 years of bulletins for $1 :-)
There's a wealth of history and information in these bulletins and Quarterlies, previously locked up, now unleashed for all to enjoy. Congratulations to all those involved for accomplishing this task.