Hastings Scientific and Natural Area (SNA) is within the city of Hastings near the west side of the Mississippi River. The part that I like consists of a small exposed limestone "escarpment" about a quarter mile long. The area is home to a dense assortment of spring ephemerals and includes the Snow trillium (Trillium nivale) that is rare in Minnesota.
I arrived a bit before sunset. Had I had a film camera, it would have been of no use. But even digital photography has its limitations, so the photos here are not all that clear.
This has been a ridiculously warm (at least a full zone warmer) and very dry winter. We have had practically no spring weather: three days with highs in the 50's, and then 65-79F highs for the ensuing three weeks. Plants cope the best they can. Spring seems to be coming about a month early here.
The Snow trilliums have been out for a while already. The warm winter, or the hot spring, or both has produced the largest plants I have ever seen there in the ten years that I have been observing them. Although the plants are bigger, the flowers themselves are no larger than normal.
Of course, these are only the best flowers. It is clear that the species is not that happy with all this heat in the 70'sF (21-26C) and 55-60F (13-16C) nights. Most show signs of heat stress in the flowers (or perhaps even a tiny bit of malformation) that I would normally attribute to aged flowering. You can see, however, that the anthers are barely dehiscing, and the flowers are not chronologically old. The petals seem a bit more narrow than normal, too. One can hardly even detect a blue tinge to the green leaves that is normally unmistakeable, even in late stages of growth. Undulating petal margins are not normal. Most look like these: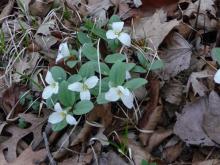 This is a view of the "escarpment". Unremarkable by most standards, I know, but for us relative flatlanders it's not a common sight. It faces north.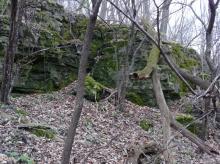 The preferred habitat for the Snow trillium here is at the edge. The best examples are always the most difficult to view close up. A patch of Trillium nivale is at the top left of each photo.
Edited to add missing photos