My World of Hepaticas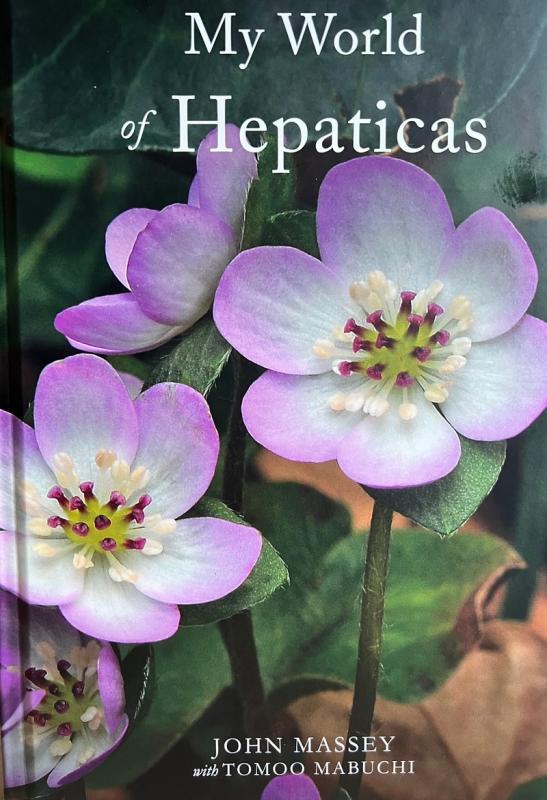 My World of Hepaticas
By John Massey, with Tomoo Mabuchi.
2022, available from Ashwood Nurseries
It is hard to think of anyone who knows more about the genus Hepatica than John Massey. In this book, by way of nearly 300 pages and almost 700 full-color images, he attempts to record nearly everything that he knows about this beautiful group of plants.
The basic organization is what one expects from a thoroughly researched botanical monograph. The bulk – about two-thirds – of the book is detailed descriptions of the species and subspecies of hepaticas, all illustrated by copious, beautiful, photographs. This species-specific information is followed up by chapters on hepatica hybrids, growing hepaticas in the garden and alpine house, propagation, breeding, exhibiting, and pests and diseases. The final chapter is by Tomoo Mabuchi, a deeply technical and exhaustive botanical description of hepaticas, including microscope images of chromosomes, stomata, vascular tissue, and every other structure of the plant.
The difference between this book and a typical botanical monograph is best illustrated by Chapter 11, which is titled "The Cast (Mentors and Friends)." This chapter introduces the reader to the plant lovers around the world who have aided Massey in his exploration of this genus. As this chapter shows, this book is, indeed, not just about hepaticas, but an introduction to Massey's world of hepaticas. In every chapter, the technical botanical information is presented through or alongside personal narrative of plant exploration trips, visits to gardens, and the hepatica lovers Massey meets along the way. This book is part botanical monograph, part memoir. The technical details and personal stories weave together seamlessly, making it an enjoyable and engaging read, not just a deeply informative one.
But even if you never read a word of this book, the photos alone are more than worth the purchase price. Hepaticas are gorgeous plants, and this book is full of page after page of breath-taking images. The section on Japanese species and selections is predictably jaw-dropping, but even the section on the North American species – which I have been enjoying in woodlands since I was a small child – included shots of foliage and flower forms that I've never seen before.
The information on propagating and breeding hepaticas is thorough and very useful, including a discussion of the complex process of breeding double-flowered forms. The chapters on growing hepaticas in the garden and alpine house is, inevitably, of somewhat limited use to most North American gardeners, as our climates are just too different from that of Massey's England. For example, he says that our native Hepatica americana requires alpine house conditions, while it is a carefree garden perennial for anyone in its native range. Hopefully, this book will inspire more North American gardeners to experiment with this beautiful genus and build up our own body of knowledge on cultivating hepaticas here.
If you are interested in hepaticas, love beautiful flower photography, or just enjoy reading the stories of plant explorers and botanical discoveries, you should certainly add this book to your collection.
Joseph Tychonievich is a life-long gardener and lover of plants, the author of several gardening books, and the editor for The Rock Garden Quarterly. He currently gardens in northern Indiana.