Hot Color, Dry Garden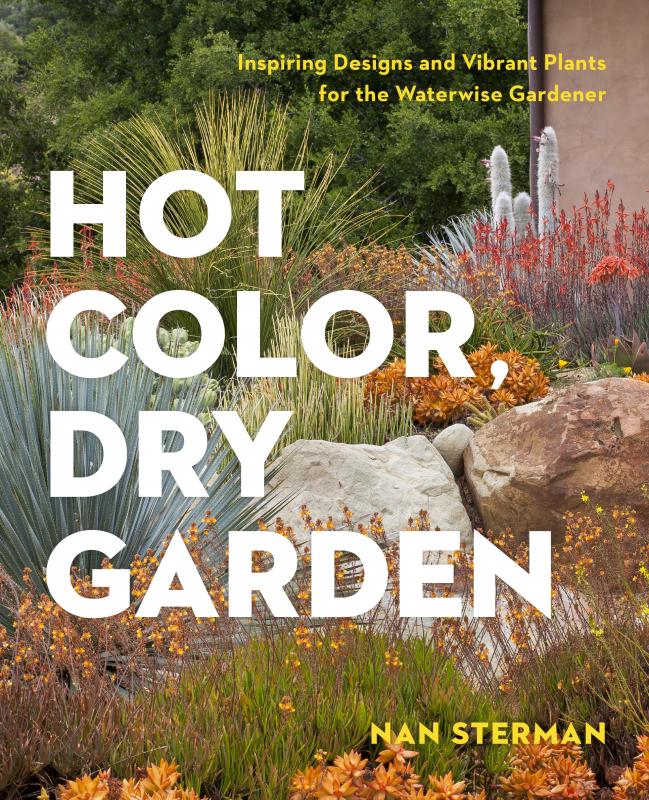 Hot Color, Dry Garden by Nan Sterman
Timber Press, 2018, 319 pages
With degrees in botany, biology and education, award winning journalist, Nan Sterman, has been speaking, writing, and teaching about low-water, sustainable gardens and landscapes for many years.
In Hot Color, Dry Garden, Nan explores vibrant color combinations using water-wise plants. Many of the sumptuous color photographs in the book were taken by the author.
Although more specifically targeted to California, Arizona, Utah, Nevada and New Mexico, as a Virginia gardener I found lots to inspire. Her suggestions involving plant structure, texture and color contrast among boulders, rock walls and stone patios could be translated with local plant material to any region. In addition, I found some of the photographs of planted pots to be very exciting.
The book is divided into roughly three sections. The first covers using color in the garden. The next is a gallery of gardens with specifics covering design elements such as elevation, soil type, and USDA hardiness zones as well as key plants. The third Is an extensive plant directory.
While the book focuses on Mediterranean climates and the water-wise plants that thrive in this region, there were plenty of plants in the directory to tempt gardeners outside this climatic region. And, should you live in such a Mediterranean climate, the garden gallery section is full of plantings to direct and excite your future landscape.
I've been having some fun lately with agaves and yuccas and this book inspires me to continue to think about plants that can sustain themselves in the landscape without supplemental watering, plants that look at home nestled into a rock outcropping and plants with strong architectural presence.
Joan Swanberg is currently President-Elect of the McIntire Botanical Garden in Charlottesville, VA and is a certified Botanical Illustrator. She gardens in the Virginia Piedmont and looks forward to the NARGS seed exchange every year.