The Drunken Botanist: The Plants that Create the World's Great Drinks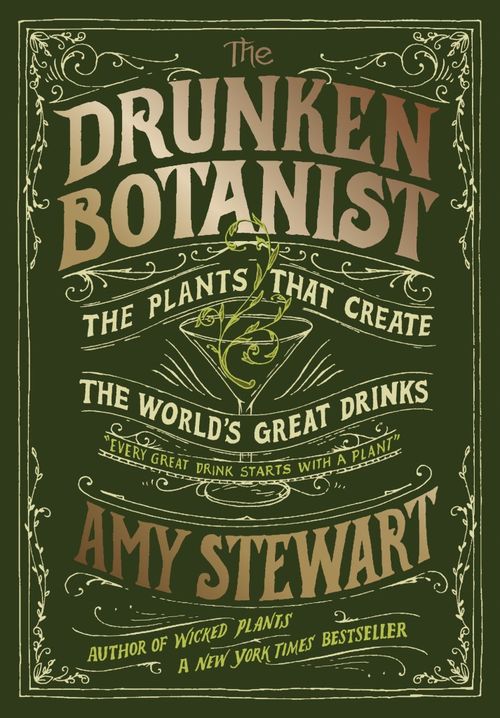 The transformation of plants into alcoholic beverages has a long and complicated history. The Drunken Botanist by Amy Stewart is an original, delightful blend of plant information, historic background, amusing anecdotes, and creative recipes for delicious drinks. This is a book that can be read cover to cover, but I would recommend enjoying it slowly and in small segments. This way you can savor a few pieces of information that you will find to be both useful and just plain fascinating. It might be a good idea, after a day spent working in your garden, to create one of the author's fantastic concoctions in the blender and then relax with this entertaining book for an hour before dinner!!
I have been making plant beverages for many years — I have played around with Echinacea tinctures, rose syrups, elderberry blends, and have made many versions of Prunus mume liqueur — and now have rekindled energy for creative beverage blending. I am ready to get some organic lemons to make my own limoncello and then I am going to the Asian market to search for Yuzu (Citrus x junos) with thick-skinned rinds that exude a complex fruity citrus fragrance that is much loved by Japanese chefs. I want to try it with sake, for liqueur and with cocktails. I will remember when collecting sloe berries (Prunus spinosa) in the summer for jam to instead use them for making sloe gin for a sloe gin fizz.
In my travels I have encountered some crazy intense spirits derived from plants. Cultures have developed their own recipes and secrets for their blends and many are referred to in this book. This brought back memories of a celebratory night in the Ecuadorean rain forest drinking a powerful, intense corn alcohol concoction that was unforgettable…well, I am not sure what happened that night….
Let me share examples of interesting facts you learn as you read through this book. Did you know that the flavor of Quercus robus is preferred for Cognac and Armagnac? An aromatized wine like the Bonal Gentiane Quina is flavored with gentian and quinine. The best known sweet potato (Ipomoea batatus) spirit is a Japanese drink shochu, made from sweet potatoes, rice, buckwheat, and other ingredients. A good sake is judged by how the rice is polished and should never be served hot. Within the chapter on strange brews I like the sound of banana beer, date palm wine or mudai, made from the fermented seed of monkey puzzle tree (Araucaria araucana). I especially like the description of prickly pear syrup for making prickly pear sangria, or paan liqueur made in Sikkim (near Nepal) distilled with betel leaf (Piper betle).
Naturally, the story of gin and its many varied ingredients is fascinating and leads to a most appealing beverage called Dombey's Last Word, flavored with lemon verbena (Aloysia triphylla), one of my all-time favorite herbs. The many licorice-flavored herbs, including anise (Pimpinella anisum) and star anise (Illicium verum) are used around the world in various drinks such as Sambuca, ouzo, anisette, and absinthe, also known for unique flavor and powerful effects. I was surprised to learn about liqueurs made from sweet violets (truly fragrant violets are hard to find) and happy to learn the background of Angostura bitters which I often drink with soda water. I hope that I have piqued your interest.
I also plan to use this when I go to interesting liquor stores in search of some of the weird beverages described such as the pine-based spirit from an Alsatian pine, a liqueur called bourgeon de sapin, said to taste like a boozy, sugary Christmas tree. Next visit to Mexico this book will go with me so I can sharpen up on the different kinds of mescal, tequila and related spirits and connect them with places as well as with the various species of agave. I would definitely try to find haunts that serve some of the unusual agave-based spirits — I like the sound of the French Intervention which combines tequila, Lillet blanc (a white aperitif wine), chartreuse, and grapefruit peel.
I discovered many new plant uses from this book as well as fascinating facts related to plant drinks. I had never heard of homemade nocino (liqueur de noix in France) made from chopped green walnuts soaked in a spirit with sugar, vanilla, or other spices. Let it sit for a couple of months to achieve maximum flavor. Some similar new blends are coming out of California. After reading about a distillery in Portland, Oregon that makes Mud Puddle, an unsweetened infusion of roasted cacao nibs in vodka resulting in a pure chocolate taste, I am ready to go. I also might make some homemade grenadine with pomegranates — so much to do….
So start blending delicious beverages using plants from your own garden. Create your own recipes for refreshing drinks — become an alchemist growing and using some of the plants mentioned in this book. As a compilation of so much interesting data — I plan to use it as a mini reference on plant beverages — I believe all gardeners will enjoy it. Put this book on your coffee table where it will make a great conversation piece.
Review by Holly H. Shimizu, Executive Director of the United States Botanic Garden in Washington, DC, and a NARGS member.