The Crevice Garden: How to make the perfect home for plants from rocky places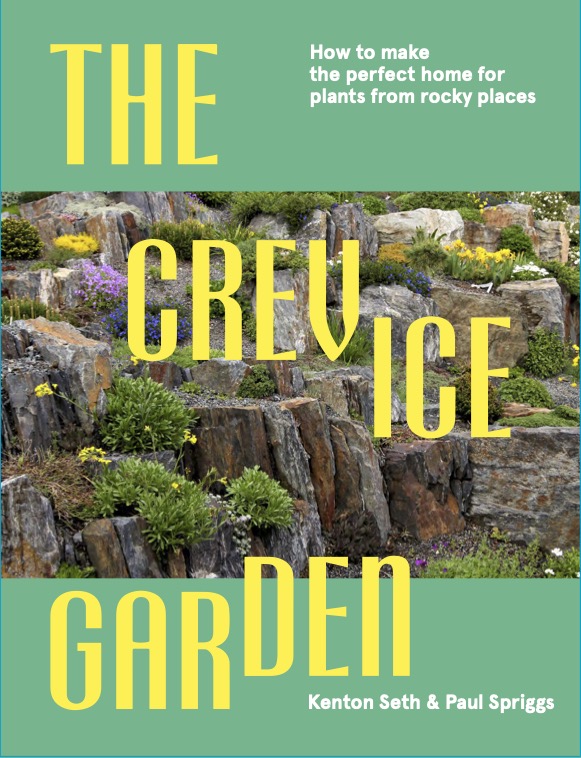 The Crevice Garden. How to make the perfect home for plants from rocky places
by Kenton Seth and Paul Spriggs. Illustrations by Kenton Seth. Filbert Press, 2022. 224 pp.
$39.95 list, $28.34 Amazon.

Crevice gardens are highly specialized rock gardens. Stone is laid vertically or diagonally
to create narrow cavities between rocks as conduits for the deep root growth of plants adapted
to rocky conditions. At least one-half of the crevice garden surface must be made up of
buried rocks to create the sense of solidity.

The Crevice Garden by Kenton Seth and Paul Spriggs presents the information and guidance
needed to understand, design, plan, and plant a successful, satisfying, and delightful crevice
garden. One as large as the dominant feature in your garden, or as small as a trough or
container on your patio, or of any magnitude in between.

Beautiful photographs tip the reader off early in the book that, beyond being a functional way
to grow difficult plants, crevice gardens are also artistic creations. Besides science, horticulture,
and skillfully laying out rocks, art and design is happening here. This becomes obvious in the
ninth chapter, "Case Studies", which showcases the best crevice gardens selected from around
the world, Denver to Prague and beyond, "real gardens and real people in real places." Each
garden has a particular lesson to teach, such as adaptation to an environmental condition, or
innovation in the genre.

This is a highly personal book. Although not written in the first person, it is apparent
throughout that the authors have drawn on personal experience and the knowledge of others.
The Acknowledgements is a veritable Who's Who of rock gardening, and Chapter 3, "The
History of Crevice Gardens", pays homage to the great crevice gardeners of Czechoslovakia who
mentored the authors and still have great influence on gardens throughout the world.

Due to the sheer numbers of distinct geographical regions around the world and the diversity of
the plants adapted to their specific conditions, this book could easily have become
overwhelming and confusing but, because the information is highly organized, logically
presented, and the sections build seamlessly on each other, that sense of confusion never
occurs. The quality and evenness of the writing and the strong structure of the book allows a
massive amount of information to be presented in a pleasant and never burdensome way.

The ten chapters are broken into concise sections of manageable lengths. Each chapter begins
with a synopsis on a purple page opposite to a full-page photo illustrating the chapter's subject.
The following sections and sub-sections are generally brief, concise, and liberally illustrated
with quality photos, and diagrams and skillful drawings by co-author Kenton Seth.

In about 220 pages, an orderly procession of headings, quotes, text, photographs, and graphics
leads you right through to the conception and construction of your own crevice garden. The
Crevice Garden concludes with plant profiles, and advice on propagating and nurturing these
fascinating plants with exacting needs.

The book-loving gardener will find pleasure in The Crevice Garden's sheer beauty, courtesy of
Filbert Press and Studio Noel. The balance between headings, sub-headings, text, illustrations,
and white space is perfect. The photographs are clear and bright, many occupying the full page.
No doubt these elements add to the clarity and balance of this book.

Although an eminently readable book that educates and inspires, it is also easily nibbled at over
time, or picked up for a quick read over and over. Each time I pick it up, this book offers up
some new nugget of knowledge, diagram, or gem of a plant. I challenge any avid gardener to
pick up this book and not be planning a crevice garden somewhere on the property by the time
they put it down.

Susan E. Schnare, DPhil, lives and gardens at her family farmstead in rural New Hampshire where her interests are generally in plants, animals and architecture, with particularly warm spots for primroses, collies and old houses and gardens. Her studies in plant science and landscape history left her with a fascination for the early botanists.