Concrete Garden Projects: Easy & Inexpensive Containers, Furniture, Water Features & More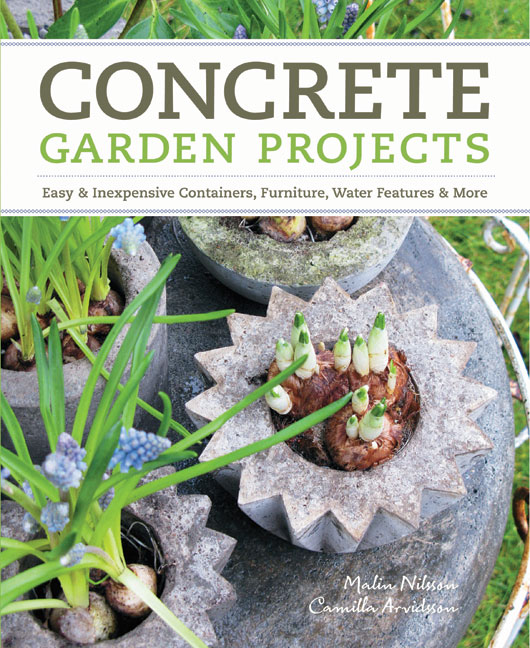 While I have been making troughs for years, it wasn't until this year that I started realizing the ease and versatility of concrete for making many other objects for home and garden. Concrete Garden Projects by Swedish authors Malin Nilson and Camilla Arvidsson will certainly help the reader expand his/her horizons for building "Easy & Inexpensive Containers, Furniture, Water Features & More," as the subtitle suggests. I might add the projects are relatively simple ones – and perhaps a modest and concrete (pun intended) first step for creative experimentation.
This is an idea book rather than a technical one. Of its 131 pages, 97 are filled with very little text and full-page color photos of projects, most of them using cast forms. The remainder of the book contains instructions for the projects.
The authors recommend using ready-mixed concrete and admit "making you own concrete can be a bit tricky" while offering only a vague suggestion for a formula. However, I see no reason why the projects outlined in the book could not be constructed from a proven hypertufa recipe.
One senses the authors may over-simplify their projects. For example, they write, "If you want to embed wheels in the concrete [of a large planter], you have to cast the pot upside down and incorporate a base plate. This can be tricky…." (How do you do this, exactly?) However, I admire their inventiveness in scrounging materials both for molds and decorative additions.
For experienced hypertufa builders do not expect this book to answer your construction questions. It is priced well at $19.95 ($13.43 at Amazon) and, as inspiration, may well complement the reader's collection of resources pertaining to the more technical side of hypertufa construction.
Carol Eichler is currently serving her 2nd stint as Chair of the Adirondack Chapter of NARGS based in Ithaca, New York.