Hello, it's me Mark McDonough, logged in as a standard user, to do some more forum testing, this topic primarily for Moderators and Admins to sort some issues out.  This topic will be used to verify or validate some features in terms of the forum's Search feature.  I will be uploading some images, not so much to show them, but to test what text the forum is using within its search function.
An Allium in flower now, species name given in the "Title Text", with some random words added.  Also, more random words added to "Alternate Text".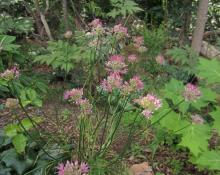 Mouse over this photo, you should see the plant name.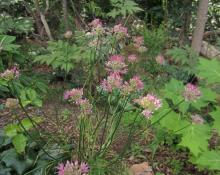 Mouse over this version, and you might only see a portion of the caption, I believe is certain characters are used in the caption, then depending on your browser used, it may interpret the character with some sort of formatting action. In this version or the caption ("Title Text") I used a colon " : ", and only what comes after the color will display on mouse-over action.
Some unique words:
housebuggy, cheezits, wombat, chiliburger
Issue #1:  Caption Text The use of certain characters in "Title Text" when uploading photos, such as colon " : " and hyphen with spaces " - " causes the popup caption text to become truncated, only showing the part that follows that character.  Mousing over the two photos above in the following browser versions confirms the bug:
Firefox   9.x Firefox 22.0 (latest) IE 10.x  (latest) Chrome 28.x (latest) Safari (version pending version from user)  
Status:  Unresolved