Well, it's September here in the Southern hemisphere although I suppose this thread was originally started to feature autumn flowering alpines!
Here's the first flowering on Erysimum amoenum grown from Rocky Mountain Rare Plants seed sown in 2012,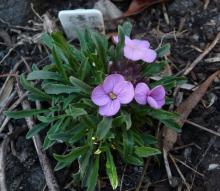 cheers
fermi
Moderator edit:  Created new thread for 2014.  Thanks for posting, Fermi!