Date:
Sunday October 20, 2013 - 10:30 am
Location:
Carriage Barn @ Lyndhurst
Terrytown, NY
Ian Young
Ian Young and his wife Maggie produce The International Rock Gardener. Ian gardens in Aberdeen and his success with bulbs is legendary to readers of The Rock Garden, the journal of the Scottish Rock Garden Club. Ian is also familiar to past attendees of the Tri-State meeting and a must-see for all rock gardeners. Please plan to attend this special meeting, plant sale, and raffle. Second talk begins at 1pm.
Ian Young will give two talks:
"Bulbs in the Garden"  How we use bulbs in the garden to create interest and colour for as many months as possible - concentrates on the use of bulbs rather than their botany.
"Nature, the Gardener's Tutor"  Looking at the lessons that I have learned from both visiting plants in the wild and observing them in the garden.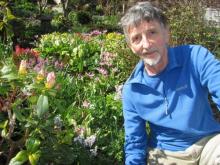 This event is jointly sponsored by the Hudson Valley Chapter, the Connecticut Chapter, and the Manhattan Chapter, the Long Island Chapter and the Watnong Chapter.