Date:
Monday May 19, 2014 -

6:00 pm

to

8:00 pm
PechaKucha, meaning chit-chat, is a lecture format in which twenty slides are presented for twenty seconds each. Originated by Klein Dytham Architecture in Tokyo in 2003, the concept has spread rapidly throughout the world and will arrive at our NY Horticultural Society meeting on Monday, May 19th with 8 minute presentations.
2014 PECHA KUCHA PRESENTERS:
1. Elizabeth Alston, on her "City Island Garden"
2. Michael Riley, on  "Bringing Crevice Gardens Home in Troughs, from Wisley"
Crevice gardening in troughs - just imagine the possibilities; see how they do it at the RHS Gardens at Wisley.
3. Brendan Kenney, on "Larry Thomas Pots"
We miss Larry! There are many fond memories of NARGS meetings, Manhattan Chapter meetings, his terrace garden, excellent plant advice, charming anecdotes, memorable conversations about music, art, theater, film...but his pots are what physically remains with us. A short history and discussion of Larry Thomas pots will be a complement to the planted pot display at the 2013 Tri-State meeting at Lyndhurst.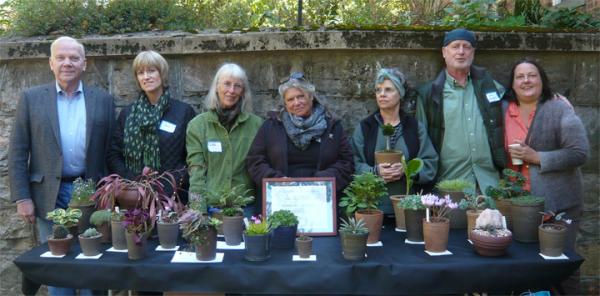 MCNARGS members display Larry Thomas pots they have planted
[Photo: Brendan Kenney]
4. Steve Whitesell, on "An Upstate Garden: Start & Restart"
On August 28, 2011, Hurricane Irene roared through the Schoharie Valley dumping 13" of rain and raising the gentle creek behind my weekend house 20' above normal level, washing in eight large trees, 4-28" of sandy silt, and ruining the house and garden. Two and a half years later, the county is largely recovered and the house and garden are renewed.

[Photo: Steven Whitesell]
5. Lola L Horwitz, on "Paving Possibilities"
I will show some examples of paving I like, some that I created for use by clients or myself, intermixed with some cautionary do's and don'ts.