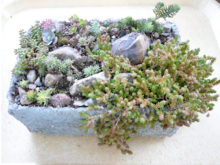 Date:
Saturday June 3, 2017 - 10:00 am
Location:
Elisabeth Zander is hosting this meeting at her home at 127 North St., Goshen, CT. 06756. 
The Zander gardens will be open to tour, so please join us even if you don't plan to participate in the outdoor workshop. See below for Judith Sellers's info on making plant troughs from fish boxes. Coffee/tea will be available at 10 am. Bring your own lunch. We will have a plant sale as well -- bring donations from your garden.
Supplies to bring for the workshop: styrofoam fish box, 2 plastic bags, tool for scraping outside of box, 1-2 inch paint brush, knife or apple corer to make drainage holes, heat gun if you have one.
The Fishbox Trough Workshop
A 'FishBox trough' is a faux-trough made from a styrofoam box designed to ship fish, or other perishable items. It takes about an hour and a dollar's worth of materials to transform it with scraping, heating, and painting, from a white box into a reasonable facsimile of a stone trough. It is light enough, even when filled, for one person to move around, is planted and treated exactly like a regular trough, is not harmed by wintering outside, and usually lasts 5-8 years unless crushed. 
Most places that sell fresh fish will save a box, (and its lid) or two for you if you ask, and some will even rinse it before handing it over. The thicker, the better, and not so long and narrow that it will bend in the middle with the weight of rocks and growing medium once it is finished. Take a large plastic trash bag to the store to put the box(es) in for the trip home, and rinse and lightly bleach all surfaces before storing. Stickers or print can be left on, as they will be removed later. The lid is useful to put under the trough to permit good drainage and prevent critters from crawling up through the drainage holes, so don't discard it. 
We will be working outdoors while making the trough, as styrofoam releases unpleasant odors and lots of little white static bits when distressed, and really nasty, toxic fumes when heated. Consider the weather when dressing for the workshop. 
A heat gun (often sold for removing paint, and costing about 15-20$) must be used to smooth, stiffen, and strengthen the styrofoam, and though 3 or 4 people might share one, the process will go faster if we have several available. If you don't have one perhaps you know where you can borrow one. 
We will have paint for everyone to use, but you will need some kind of scraping tool to make the 'trough' look like stone before heating it. Anything from a bent fork to a curved cheese grater, serrated knife, butter curler, or miniature house plant rake can be used, as long as it will scrape a quarter inch deep into styrofoam. We will provide a few, but you might bring your own inexpensive paint brush (sold as a children's brush) either round or flat, between 1/2 inch and 1 and 1/2 inches 'wide'. 
The paint is acrylic which washes off, so you will not need gloves unless you always wear them to protect your hands. The paint on your box may not be completely dry when it is time to take it home, so have another plastic bag or large box to transport it in. 
Because you can never have too many troughs, and these are so easy to make that you can have as many as you like, this workshop may actually teach a life-skill. Hope to see you all there.