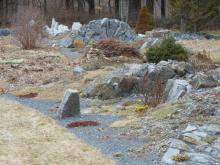 Date:
Saturday June 2, 2018 -

10:00 am

to

2:00 pm
Location:
The Education Center of the Berkshire Botanical Garden, 5 West Stockbridge Road, at the intersection of Routes 102 and 183 in Stockbridge, MA. For a map of and directions to the Garden, click http://www.berkshirebotanical.org and scroll under "Visit."
In the morning, Michael Peden will speak on Crevice Gardens: "Good practice in rock/crevice gardening from a seasoned grower of small things." Mr. Peden will look back at what he has done and is learning from, including the Plant Delights crevice garden effort. He is from the Lake Champlain area of New York and has been designing and building crevice gardens for many years. In the afternoon we will hear about Elisabeth Zander's Patagonia trip, Part 2, a continuation of her presentation from April, covering different areas in Patagonia. The meeting begins at 10 with coffee and conversation. A brief business meeting and Show & Tell start at 10:30, followed by our program. Bring your own lunch. 
Please bring donations from your gardens for our Plant Sale as well. This is an important source of income for our chapter.