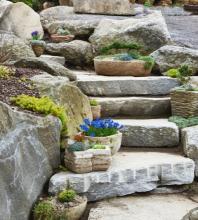 Date:
Saturday November 2, 2019 -

10:00 am

to

3:00 pm
Location:
The Education Center of the Berkshire Botanical Garden, 5 West Stockbridge Road, at the intersection of Routes 102 and 183 in Stockbridge, MA.
Morning: Lori Chips Lori Chips has been committed to the exploration of alpine plants since her student days at The New York Botanical Garden. After graduating, she accepted the job as propagator for the Rock and Native Plant Gardens there. She has been Alpine Manager at Oliver Nurseries for over 20 years, expanding the rock garden collection and pressing the boundaries in the art and science of creating and planting troughs, a long-standing interest that holds a special place in her heart. She has been a member of BNARGS since 1996. Her book on the subject: Hypertufa Containers: Creating and Planting an Alpine Trough Garden was released by Timber Press in 2018. She has taught classes at NYBG, lectured to the North American Rock Garden Society and written many articles for NARGS as well as Oliver's over the years. As a botanical illustrator, Lori's artwork has appeared on the covers of the NARGS Quarterly. (1999) She is the recipient of the Carleton R. Worth Award for horticultural writing. She has judged at the Philadelphia Flower Show as well as at smaller venues. Lori lives and gardens with her husband Joe, without whom there would be less rock in the rock garden, and who is her unflagging partner, travelling to climb mountains, explore other gardens, and meet other like-minded gardeners. Lori will share her best trough tips & tricks developed over two decades of building hypertufa containers and growing alpines in them. She will cover some advanced building techniques, cultivation, wintering, planting, placement in the garden and trouble-shooting your trough. But most of all, she will share the joy to be had in this nurturing and creative process.
Afternoon: The Annual Luncheon The annual luncheon will be held at the Aegean Breeze again. It is located at 327 Stockbridge Rd, Great Barrington, MA 01230. A $10 per person deposit is required. The $10 will be deducted from each guest's bill. If you would like to attend, please send a check payable to the Aegean Breeze to Tom Flanigan, 12 Overbrook Farm Rd., Bloomfield, CT 06002 to be received by October 30th. If you have procrastinated or had a late change of mind, please call Tom at 860 286 0128 to let him know the check is on the way.