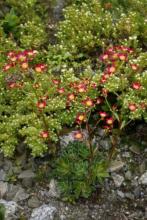 Date:
Saturday July 7, 2018 - 10:00 am
Location:
The Education Center of the Berkshire Botanical Garden, 5 West Stockbridge Road, at the intersection of Routes 102 and 183 in Stockbridge, MA. For a map of and directions to the Garden, click http://www.berkshirebotanical.org and scroll under "Visit."
Morning: Tamsin Goggin on Linc and Timmy Foster. Tamsin will use Linc Foster's slides to describe the making of their garden "Millstream," a six-acre garden in northwestern Connecticut featuring alpine and woodland plants thoughtfully designed with ecological principles in mind. Ms. Goggin assisted the Fosters in planting and preserving their garden. She is a former Chair of BNARGS and an expert horticulturalist. Afternoon: Plant Sale
The meeting begins at 10 with coffee and conversation. A brief business meeting and Show & Tell start at 10:30, followed by our program. Bring your own lunch.
Please bring donations from your gardens for our Plant Sale as well. This is an important source of income for our chapter.