Date:
Saturday April 16, 2016 - 9:30 am
Location:
JC Raulston Arboretum
Raleigh, North Carolina
Five years ago, Helen put into action a five-year plan to ensure that when she was older, she would still be able to care for her garden that she calls "Helen's Haven."
The last five years, Helen has slowly been renovating her garden to be a Forever Garden. We know of forever houses, now Helen has coined the term, Forever Garden.  Even though Helen was perfectly capable of continuing on, she realized she was at a point in her life, that with a little planning, the worry of who will care for the garden doesn't have to be. Moreover, Helen says, "I know I'll need my garden even more should my health fail; thus I've been renovating my garden to be a Forever Garden."
Helen's main gardening goal is to educate. To be able to share with others what she has been doing in her Raleigh garden since 1997.
Helen's Haven is wildlife habitat—organic, water-wise, sustainable, and never treated with fertilizer, herbicide, or pesticide. Helen's Haven receives a fresh application of composted leaf mulch annually. Weeds are suppressed, soil temperatures are moderated, it looks great, plus, as it breaks down, it adds nutrients to the soil.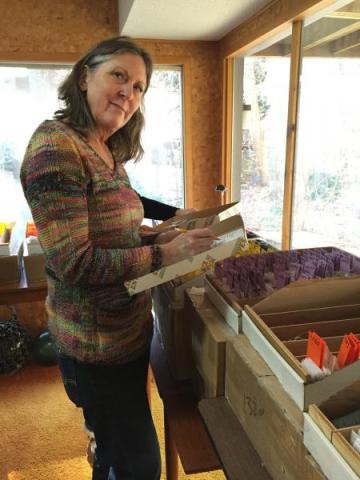 Helen Yoest (photo by Bobby Ward)