Date:
Monday December 16, 2013 - 6:00 pm
Location:
Horticultural Society of New York
148 West 37th Street, 13th Floor
New York NY 10018
between Broadway and Seventh Avenue.
Dennis Schrader will speak on "A Garden's Evolution:  From an Abandoned Farm Field to Shangri-La"

 In 1992 we started with a blank canvas, 17 acres of abandoned, farmland located on the East end of Long Island on the North Fork. The presentation will take you on the 21 year journey through the development of the garden. Starting with clearing the land and soil preparation then onto design and layout of specific areas and the addition of many garden features.
There are numerous paths throughout the garden leading to garden rooms hedged in Hornbeam each with its own theme. The garden has rustic arbors, trellises, stone walls, terraces, ponds and the Tiki Hut.  Many of the plantings contain tropicals, subtropicals, tender perennials, and annuals. The house and gardens are encircled by 10 acres of fields with mowed paths for viewing native plants and wildlife.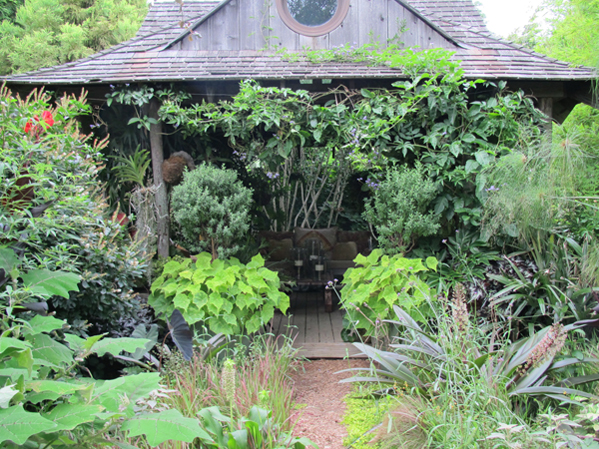 Tiki Hut, Schrader/Smith Garden, Mattituck, NY
Photo: Dennis Schrader
Dennis Schrader, a noted personality among New York's horticulture circles, is one of the foremost experts in the metropolitan area on plant production and garden design.  His design accomplishments range from small penthouse gardens in Manhattan to large-scale commercial and estate landscapes on Long Island and throughout the Northeast. He has also designed tropical style gardens in southern Florida, California and Costa Rica.  Dennis and partner Bill Smith have operated Landcraft Environments Ltd., a wholesale greenhouse operation, since 1992, although they began growing unusual annuals, tender perennials and tropicals for their landscape clients, select designers and connoisseurs ten years earlier. They collect rare seeds and plant material from around the world and grow them on in trial display gardens before introducing these rarities to the gardening world.
Dennis and Bill's garden is included as a stop on many garden tours throughout the summer months.  Their garden has been featured in most national and international gardening magazines. Dennis has written numerous articles on gardening for national magazines such as Fine Gardening, Horticulture and American Homestyle and Gardening.  Dennis and garden writer/photographer Susan A. Roth have written a book about the tropical-style garden, titled 'Hot Plants for Cool Climates'.  The book describes how to grow and design with tender perennials, sub-tropicals, and tropicals in temperate gardens; it contains an encyclopedia of over 500 plants.  Dennis' most recent book 'Extraordinary Leaves' with the photographer Stephen Green-Armytage, was published by FireFly Books in September of 2008.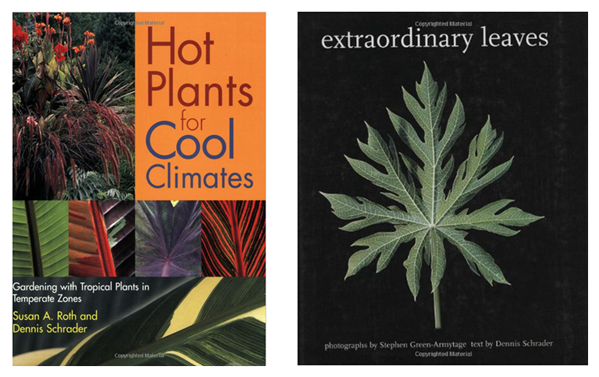 Dennis Schrader's Books