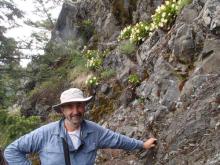 Date:
Saturday June 1, 2019 -

10:00 am

to

3:00 pm
Location:
The Education Center of the Berkshire Botanical Garden, 5 West Stockbridge Road, at the intersection of Routes 102 and 183 in Stockbridge, MA. For a map of and directions to the Garden, click http://www.berkshirebotanical.org and scroll under "Visit."
The meeting begins at 10 with coffee and conversation. A brief business meeting and Show & Tell start at 10:30, followed by our program. Bring your own lunch. Please bring donations from your gardens for our Plant Sale as well. This is an important source of income for our chapter.
Morning: David Sellars - Chaos in the Rock Garden: Putting Theory into Practice. David Sellars is an award winning photographer and is a Past-President of the Alpine Garden Club of British Columbia. Together with his wife, Wendy, he is developing an extensive alpine and woodland garden in coastal British Columbia. He is an avid mountain hiker and maintains the website www.mountainflora.ca. David's particular interests are rock garden design and construction, alpine plant photography and using video to illustrate mountain landscapes and alpine plant habitats. David has given talks on rock gardening and alpine plants across North America and in the UK including the North American Rock Garden Society (NARGS) Discussion Weekend in Portland, Oregon in 2009 and the 2016 International Saxifrage Conference in Oxford, England. In 2018 he was invited to give two lectures at the Scottish Rock Garden Club Annual Discussion Weekend in Pitlochry, Scotland. He has written articles on rock garden design and alpine plant explorations for the NARGS Rock Garden Quarterly, the International Rock Gardener, and the Saxifrage Magazine. Selections of his photographs were published in the recent book Alpine Plants of British Columbia, Alberta and Northwest North America and a new edition of Arthur Kruckeberg's Gardening with Native Plants of the Pacific Northwest.
Afternoon: Brian Mcgowan - Propagation Workshop This hands-on workshop will focus--through discussion and participation--upon the taking of soft wood cuttings from both herbaceous and woody material. Brian suggests participants bring a clear plastic box with a lid--something like 12" x 18" and 8"-10" deep. This will become a propagation box once it is filled with growing media, which will be supplied by the chapter. We will also supply rooting hormone. Bring a pair of well-sharpened pruners or a very sharp knife for making final cuts. Bring tags for labeling your cuttings and a sharpened pencil as well. Before attending, take cuttings of plants you would like to experiment with, and if you have enough, bring extras to share with other workshop participants. Cuttings should be taken from this year's growth. Take cuttings early in the day, label well, and mist lightly before putting them in a plastic bag. If this is happening before the day of the workshop, you should store cuttings in the refrigerator.