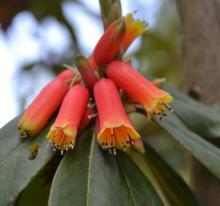 Date:
Saturday March 3, 2018 - 10:00 am
Location:
The Education Center of the Berkshire Botanical Garden, 5 West Stockbridge Road, at the intersection of Routes 102 and 183 in Stockbridge, MA. For a map of and directions to the Garden, click http://www.berkshirebotanical.org and scroll under "Visit."
Unfortunately, due to the storm, our speaker had a flight canceled and cannot make it to the Berkshires in time to speak to us tomorrow morning. We hope to reschedule his talks for another meeting this year.
Steve Hootman, Executive Director and Curator of the Rhododendron Species Botanical Garden (RSBG) in Federal Way, WA, will give two talks. In the morning, he will present "New Introductions at the RSBG" and after lunch, he will speak about "Twenty Years of Plant Hunting". Steve has worked at the RSBG since 1992 and regularly goes on expeditions around the world to find new rhododendron species for the garden. There are over 10,000 rhododendrons planted in a woodland setting at the garden, plus a conservatory that displays rare tropical species along with orchids and tree ferns.
Here are links to the RSBG and some of Steve's writing:
https://rhodygarden.org/cms/author/steve-hootman/
https://rhodygarden.org/cms/