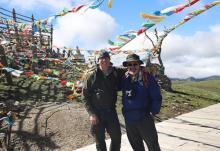 Date:
Saturday November 3, 2018 -

10:00 am

to

3:00 pm
Location:
The Education Center of the Berkshire Botanical Garden, 5 West Stockbridge Road, at the intersection of Routes 102 and 183 in Stockbridge, MA will be the location for the morning portion of the meeting. After the presentation by Matt Mattus, we will drive to the Aegean Breeze Restaurant (327 Stockbridge Rd, Great Barrington, MA 01230) for our Annual Luncheon.
Morning: Matt Mattus 'Botanizing in Yunnan and Western China' One of the world's richest floral regions, Yunnan and the borderlands of the Tibetan Autonomous Region, remains of immense interest to botanists and alpine gardeners. Home to some of our most cherished garden plants, the region remains a hotspot for primula, androsoce and meconopsis species, not to mention arisaema, rhododendron and corydalis. Matt will share with us his stunning photos from this NARGS TOURS trip (this past June 2018) which promises to deliver at least an hour of high-elevation Himalayan escapism. Afternoon: The Annual Luncheon The annual luncheon will be held at the Aegean Breeze again. It is located at 327 Stockbridge Rd, Great Barrington, MA 01230. A $10 per person deposit is required. The $10 will be deducted from each guest's bill. If you would like to attend, please send a check payable to the Aegean Breeze to Tom Flanigan, 12 Overbrook Farm Rd., Bloomfield, CT 06002 to be received by October 27th.