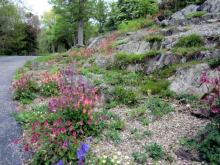 Date:
Saturday May 5, 2018 - 10:00 am
Location:
Anne Spiegel's garden is located at 299 Maloney Rd., Wappingers Falls, NY 12590. The driveway to use is just past a long, long berm of bark chips. The driveway is also marked by row of white pines on each side planted much too close together (Anne didn't do it). Please do not use the "back" driveway which you will see first on the way in. If you need written directions, please email pondhick@verizon.net.
The visit to Anne Spiegel's Garden is limited to members of the Berkshire Chapter of NARGS and their guests. It begins at 10 am. It will consist of a tour of Anne's fabulous garden together with lots of conversation. Bring your own lunch.