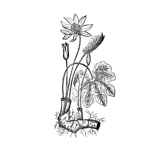 The Watnong Chapter meets five times each year at the Haggerty Education Center of the Frelinghuysen Arboretum, 353 East Hanover Avenue, Morristown, New Jersey 07960. Meetings are free and open to the public, and are scheduled for:
2/16/20 Barbara Melera, Landrith Seed, 'The D. Landreth Seed Company and the Story of America's Great Seedhouses'.
3/21/20 Joseph Tychonievich, NARGS Editor, Green Sparrow Gardens, 'Rock Gardening: Reimagining a classic style for Today's Garden'.
4/25& 26, Annual Plant Sale at The Leonard J. Buck Garden, Far Hills.
May, June, July, or August: tours of member gardens, picnic, and Plant Swap, for members only. Dates & Locations to be determined.
9/19/20 Lisa Roper, Chanticleer Horticulturist, 'Bulbs'.
10/18/20 Randy Heffner, Aquascape, 'Sarracenia'.
11/21/20 Annual Meeting and Luncheon, for members only. Speaker Lori Chips, Oliver Nurseries, 'Container Gardening'.
Please come join us, and bring a friend!