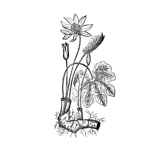 In years without a global pandemic, the Watnong Chapter meets five times each year at the Haggerty Education Center of the Frelinghuysen Arboretum, 353 East Hanover Avenue, Morristown, New Jersey 07960. Meetings are free and open to the public. We also sponsor an Annual Plant Sale at The Leonard J. Buck Garden in Far Hills, New Jersey, garden visits, and a summer picnic.
      As of January 2021, it remains uncertain when the Haggerty Education Center will reopen. We have moved our meetings to an on-line Zoom platform. All active members will be sent the link a few days before the scheduled meeting. Our Annual Plant Sale has been cancelled for 2021, but we remain hopeful that we may be able to gather over the summer to swap plants and share conversation.
Our spring 2021 schedule:
February 20, 2021, 10 a.m. Marta McDowell will present 'Emily Dickinson's Gardening Life', and a brief update on her research on T. H. Everett, one of the founders of NARGS.
March 13, 2021, 10 a.m.  Lesley Parness will present 'Drama Queens: Dark Beauties for Your Garden'.
                                                                                    Please see our current newsletter for information on joining us!