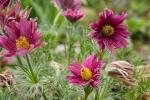 More than 50 years of experience cultivating plants for rockeries, troughs, woodlands, bogs, and more.  We are not just an alpine plant society, as many of us are generalists, but we share a passion for a wide range of plants.  
JOIN PVC and enjoy lectures, field trips, two plant exchanges, trough workshops, and the camaraderie of other plant enthusiasts. 
Membership dues: $15.00   Please send your check, payable to PVC NARGs, to  Margot Ellis, 2417 N Taylor St., Arlington, VA 22207 4pvctreas@gmail.com
Our meetings usually occur on Saturday mornings, often at a local public garden, such as the US National Arboretum, US Botanic Gardens, or Brookside Gardens, and occasionally at a community center.  We rotate locations to accommodate our membership which is spread throughout the Washington DC metro area.