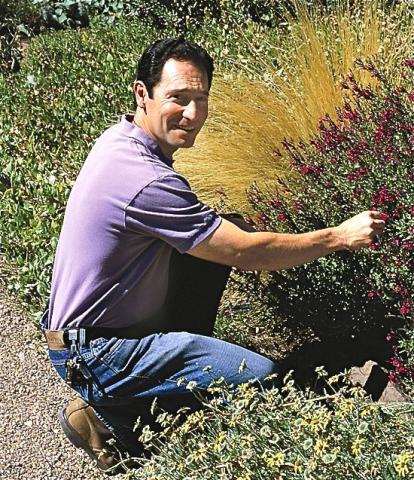 David is a 1979 graduate of Colorado State University with a degree in Horticultural Science. He is the founder Santa Fe Greenhouses, a retail greenhouse and nursery in Santa Fe, NM in 1984 and the High Country Gardens mail order catalog in 1993. He is currently the Chief Horticulturist of High Country Gardens.
Through many years of hands-on experience, David has acquired expertise in a wide range of horticultural endeavors including greenhouse production, perennial propagation and seed production, growing cold hardy cacti and succulents as well as commercial tree farming. He is also very experienced in Xeric landscape design, installation and maintenance for the Intermountain West.
David devotes considerable effort breeding and searching for and evaluating the garden performance of new and interesting waterwise plants. He places special emphasis on native species from North America, as well as cold hardy, xeric species from western Asia and South Africa.
In addition to writing gardening articles for various publications, David is a garden/landscape photographer and a well traveled speaker who gives talks on Xeriscaping and gardening throughout the US with a special focus on the Western US.
Published Articles
"Making Plant Combinations the Highlight of Your High Plains Garden",
Great Plants Gardener Winter Issue 2009, Nebraska Statewide Arboretum
"Garden-worthy Plants of the western Short Grass Prairies",
Great Plants Gardener Winter Issue 2008, Nebraska Statewide Arboretum
"Sage Advice; Garden worthy Salvia", Fine Gardening, Sept-Oct. 2007
"The Genus that Has it All: Agastache", The Journal of the Hummingbird Society, Special issue 2005
"Hooked on Hyssops", Fine Gardening,  Sept-Oct. 2004
"Jeepers Creeper!", The American Gardener , Nov.-Dec. 2003
"Cold Hardy Cacti", The American Gardener (American Horticultural Society), Mar.-April 2000
"Perennials for the Mountains" Mountain Gardening (Denver Botanic Gardens/Vail Alpine Garden publication), 1998
Awards
2008 Recipient of the Paul Ecke, Jr. Award for Commercial Horticulture, American Horticultural Society